In a world that evolves at lightning speed, the art of teaching is a dynamic journey that requires constant reinvention. As the role of educators transcends traditional boundaries, tutors hold the key to unlocking the full potential of their students, fostering a love for learning and empowering them with the skills they need to thrive in an ever-changing landscape.
At NICMAR University, we understand the pivotal role played by tutors in shaping the future of education. We believe that innovation is the cornerstone of effective teaching, and we leave no stone unturned in equipping our tutors with the tools, strategies, and mindset required to embrace the winds of change.
A bold stride towards this goal was taken through a recent symposium hosted at the esteemed Pune campus of NICMAR University. Organized by the Academic Practice Directorate (APD) on April 26, 2023, the symposium titled "Teaching and Learning Practices Showcase 2023" offered a forum for a discussion on varied innovative pedagogical practices adopted by our faculty members to teach certain niche courses.

The proceedings kicked off with a delightful introduction of Prof. Fiona Smart, a distinguished international consultant in teaching and learning. Prof. Smart's illustrious career includes notable positions such as former department head and current visiting Professor at Edinburgh Napier University Scotland, as well as a visiting Professor at UWE, Bristol.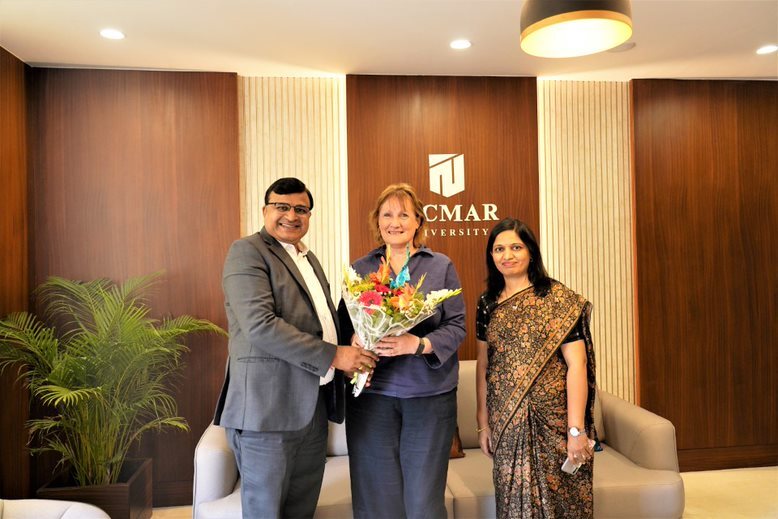 Prof. Smart's extensive expertise in the field of education led NICMAR University, Pune to extend a special invitation for her participation in the Faculty Development Program, exclusively tailored for NICMAR faculty members. Additionally, shewas also honored with an invitation to showcase her exemplary teaching and learning practices at a remarkable event preceding the FDP.
Here are the key highlights of the symposium:
- The symposium commenced with an enlightening inaugural address by Dr. Anil Kashyap, the esteemed President and Chancellor of NICMAR University. Dr. Kashyap emphasized the necessity of engaging in thoughtful discussions on innovative teaching and learning processes. He further underscored the significance of adopting best practices observed in renowned universities worldwide.

- Dr. Mrs. Sushma S. Kulkarni, the Vice-Chancellor of NICMAR University, Pune, delivered an engaging introductory address. She shed light on the paramount importance of quality within teaching and learning systems. Dr. Kulkarni encouraged faculty members to actively participate and draw inspiration from one another, fostering an environment of continuous improvement.
- Guiding the symposium was Dr. Poonam Kashyap, the Director of Strategy and External Partnerships for the NICMAR Group of Institutions. As a judge for the event, Dr. Kashyap facilitated enriching discussions among faculty members and the esteemed external consultant, Prof. Fiona Smart. Dr. Kashyap also provided invaluable guidance to faculty members throughout the showcase event and the subsequent faculty development sessions.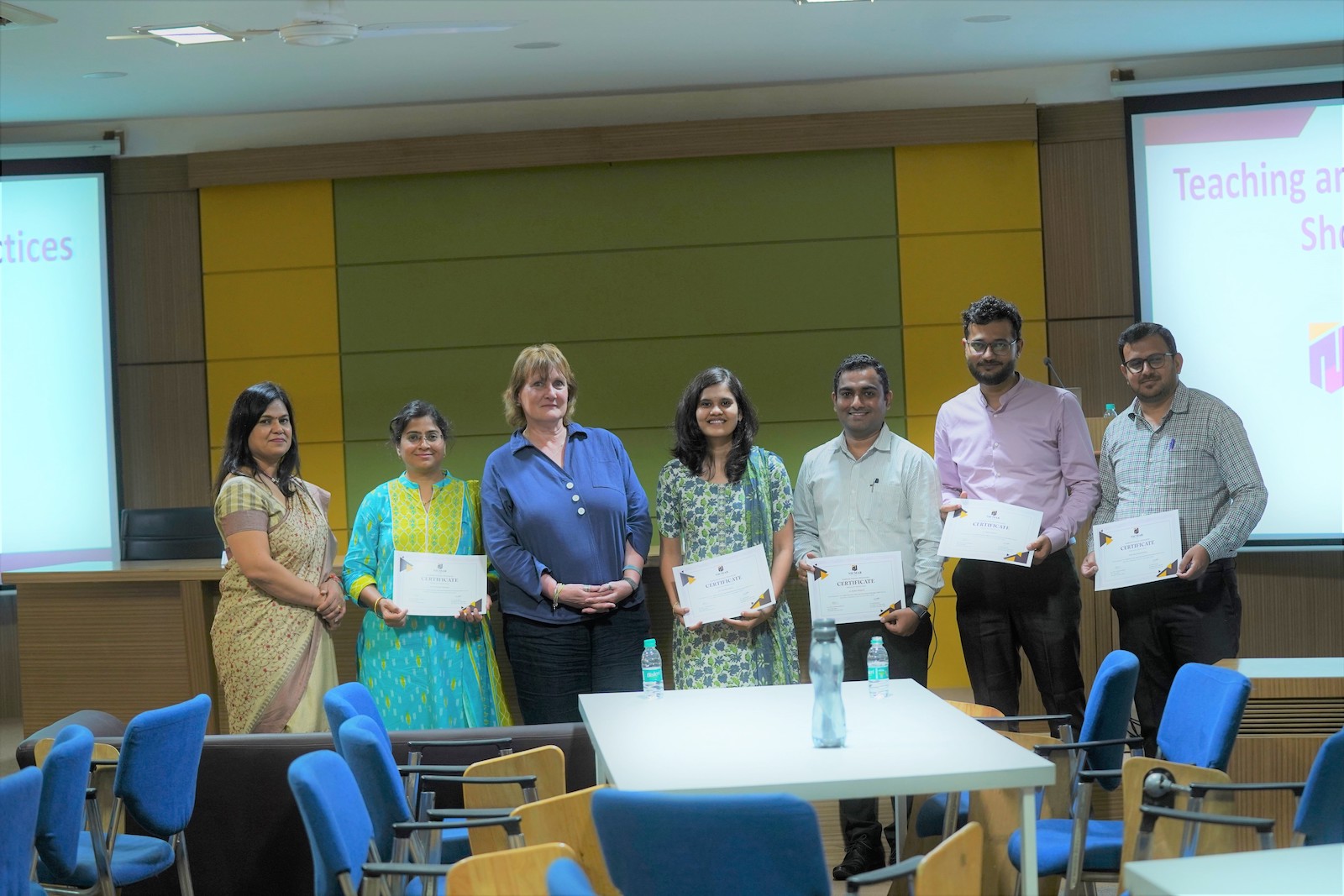 During the symposium, a total of seven teams comprising NICMAR faculty members showcased their innovative teaching and learning practices. The presentations and report submissions were diligently evaluated by esteemed judges, Dr. Poonam Kashyap and Dr. Fiona Smart.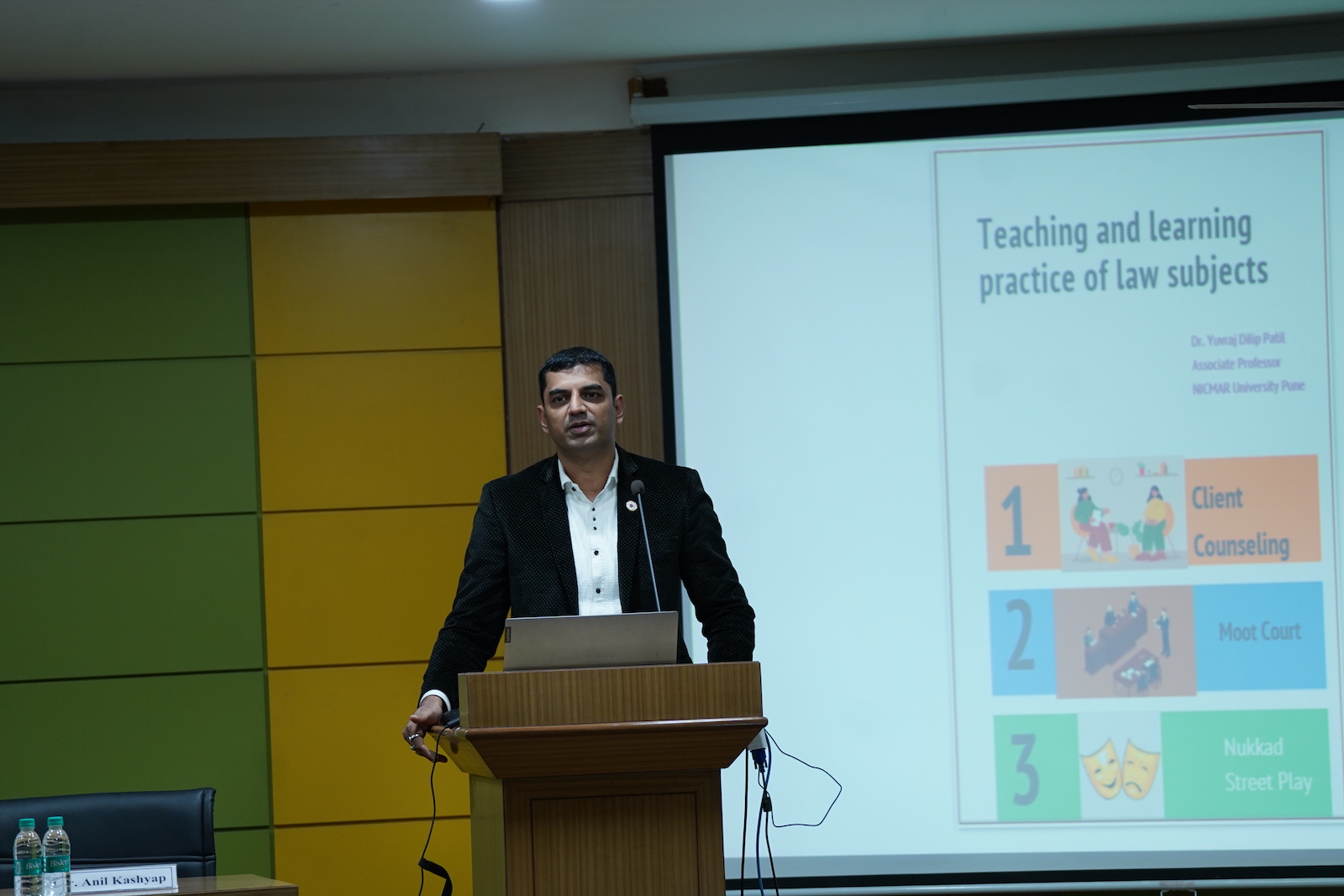 Each participant presented captivating and inventive teaching and assessment methodologies, igniting engaging discussions and stimulating conversations. The faculty members of NUP demonstrated their active involvement in exploring novel teaching and learning methods.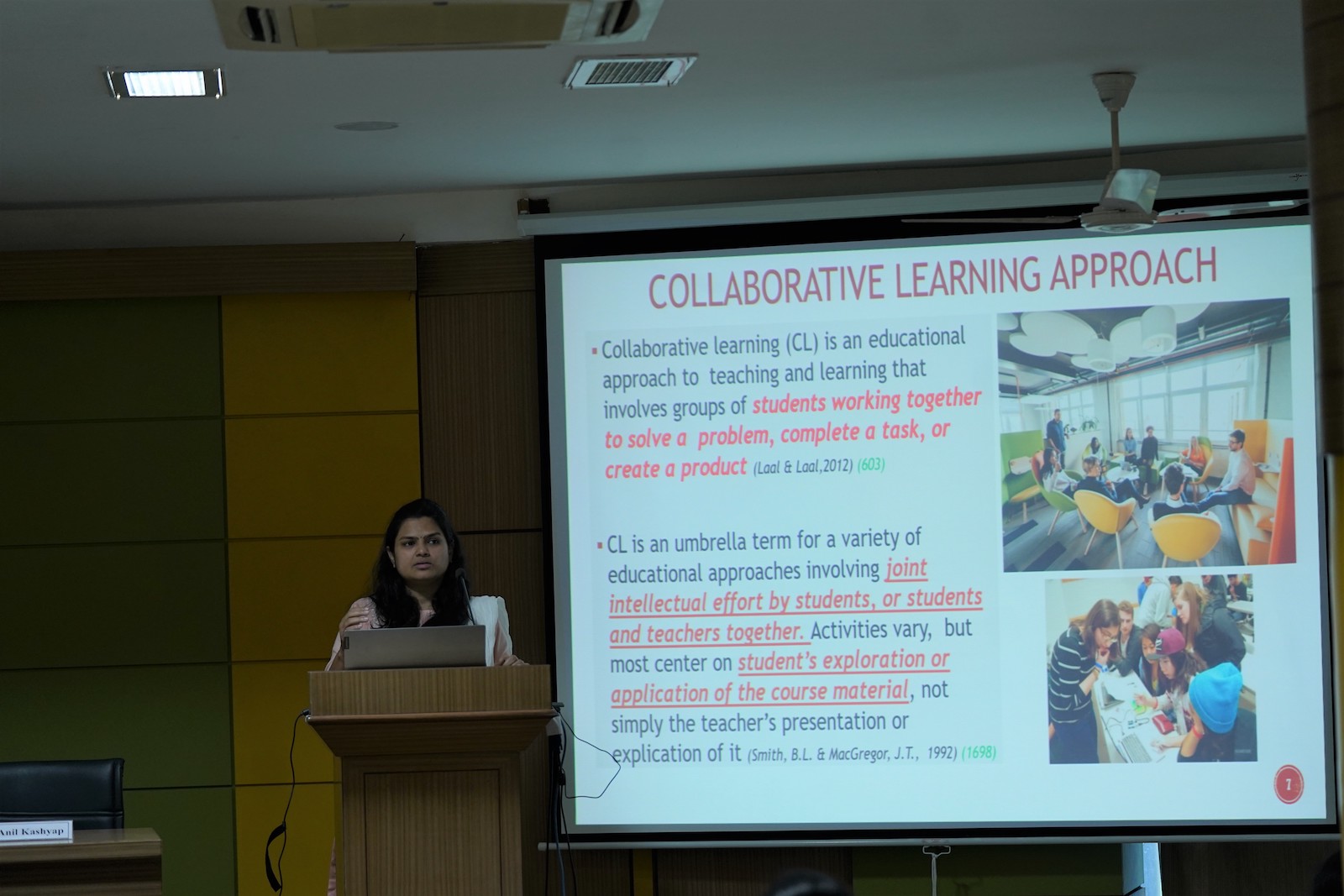 The thought-provoking symposium witnessed Prof. Fiona Smart posing significant questions that encouraged participating faculty members to delve deeper and reimagine their conventional pedagogical practices in a fresh light.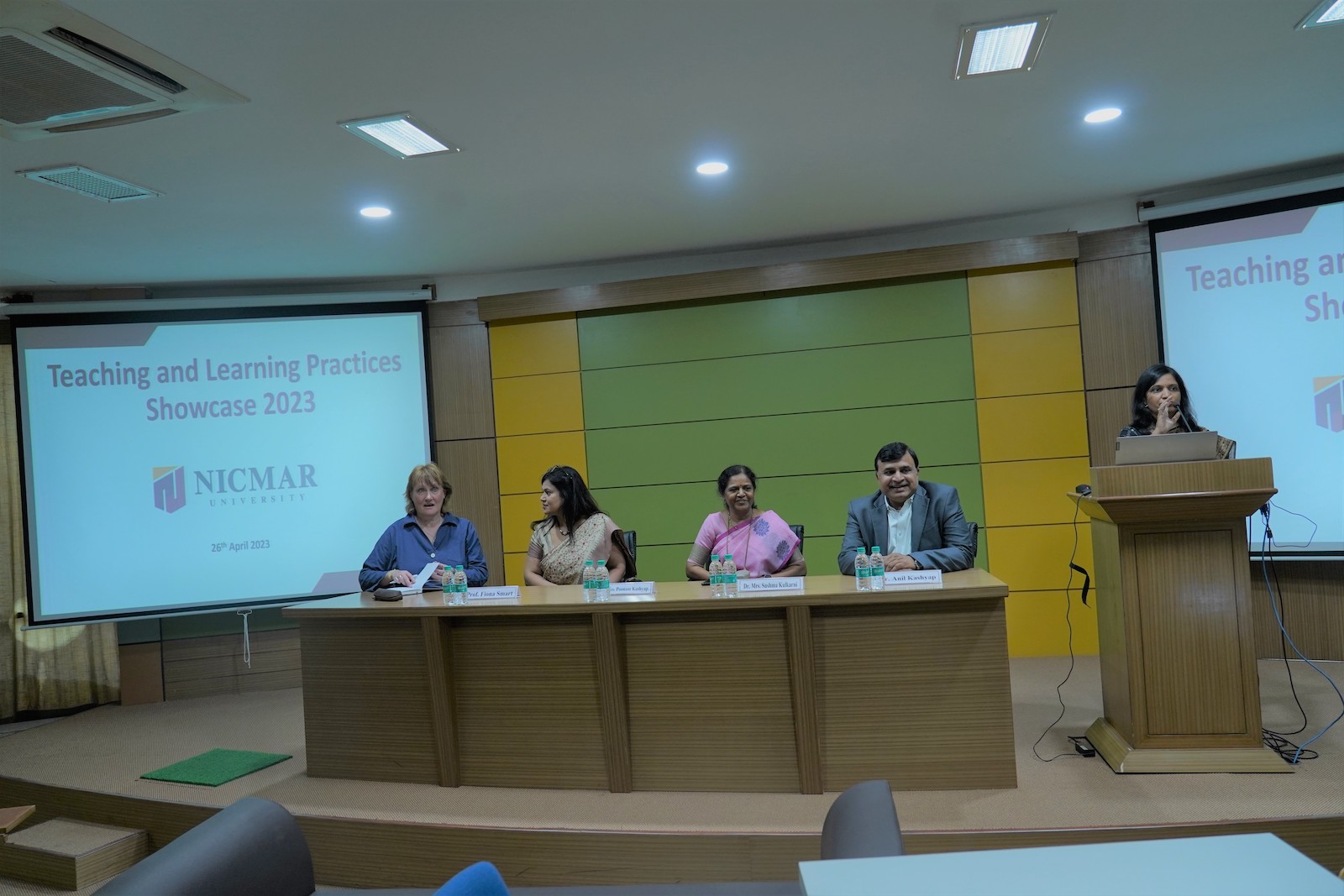 In recognition of their outstanding contributions, the prestigious 'Best Academic Practice Award' of the year 2023 was bestowed upon Prof. Janhavi Abhang and Prof. Priyanka Bendigiri. Dr. Fiona Smart had the honor of felicitating the winners, and all participants received well-deserved certificates of participation.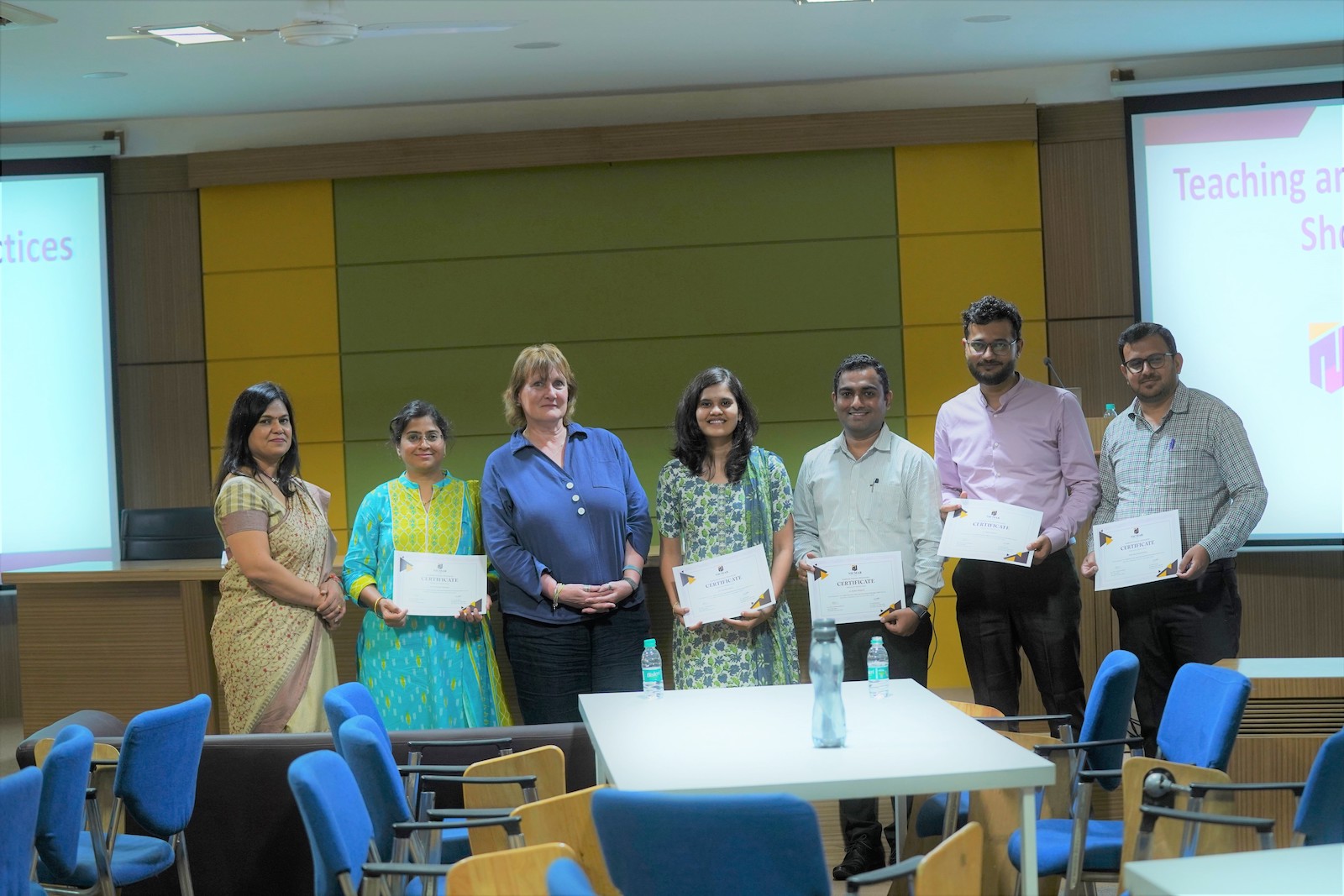 Undoubtedly, the event provided an enriching experience for all attendees, fostering innovation and collaboration in the realm of teaching and learning.
This symposium at NICMAR University was the perfect opportunity for faculty members to showcase their innovative teaching and learning practices. With engaging presentations, thought-provoking discussions, and valuable insights from esteemed judges, Dr. Poonam Kashyap and Dr. Fiona Smart, the event showcased the commitment of NICMAR University to fostering excellence in education.