It is a moment of pride that cannot go unnoticed. NICMAR's 'Professor of Excellence' added one more feather to the university's cap.
NICMAR University is proud to announce that the Dean of School of Project Management, Dr. Milind Trivikram Phadtare, has successfully authored the world's second book on Project Marketing. The book "Project Marketing: A Practical Approach" is published by one of the world's leading academic publishers, Taylor and Francis. Congratulations, Dr. Phadtare!
In light of the fact that Project Marketing is a barely touched area in academics and has insufficient literature available, Dr. Milind Phadtare attempted to contribute to it with his book "Project Marketing: A Practical Approach".
Prior to authoring the book, Dr. Milind Phadtare published over 20 research papers on project management throughout his journey.
Well, the contribution of the author proved remarkable! The context and content of the book are accepted worldwide, and it has received noteworthy testimonials and compliments.
So…
What's there in "Project Marketing: A Practical Approach"?
The 8-chapter book carries the perspective of project marketing/contracting/subcontracting firms. It tries to answer the question, "What should these firms do to get the contract from the client in the face of competition?"
Portraying the 15 years of experience of Dr. Phadtare, the book addresses the executives or managers of the business development departments of the project marketing / contracting / subcontracting firms. It can also be a guide for students aspiring to make a career in project marketing.
- Provides key definitions and discusses concepts such as segmentation, target marketing, positioning in projects, and organizational buyer behavior.
- Draws and adapts from extant marketing theory and provides real-life case studies to demonstrate application of concepts.
- Focuses on project marketing logic, marketing mix, negotiation techniques, and strategies to aid contracting/subcontracting firms to realize better pricing and project profitability.
Needless to say, for project managers, entrepreneurs, infrastructure corporations, and startups, this book will be indispensable. It will help them enrich relationships with related experts while reducing the challenges of time and cost escalation, litigation, and others.

With these as its context and content, the book has been rewarded with notable international commendations.
Commendations and Testimonials Received for the Book
Bernard Cova, a professor of Kedge Business School and the Director of the Project Marketing Research Institute at ESCP-EAP, Paris, is the author of "Project Marketing: Beyond Competitive Bidding", the 1st book on the subject worldwide.
For Dr. Phadtare's book, he quotes, "The book is a must-read for BtoB marketers. It is rich in Indian examples, and Milind Trivikram Phadtare (the author) has achieved a tour de force with this work."
Prof. Henrikki Tikkanen of Alto University School of Business, Finland, says, "There hasn't been a new international textbook on the topic for a long time. Prof. Milind Phadtare's new book thus fills this gap."
The trail doesn't stop there! Rahul Shah, COO-Urban Infrastructure Tata Projects Ltd., compliments the book to be an easy read, despite it addressing a very complex subject. Also, Col. E J Sanchis, Management Consultant, says, "It is a bible of sorts for academic development and professional application."
"The book analyzes several variables that impact project marketing and various contexts that are relevant to the world of projects and would be useful to marketing managers who are new to this ecosystem," says Prashant Mahajan, General Manager-Business Development Shapoorji Pallonji (Engineering & Construction).
About the Author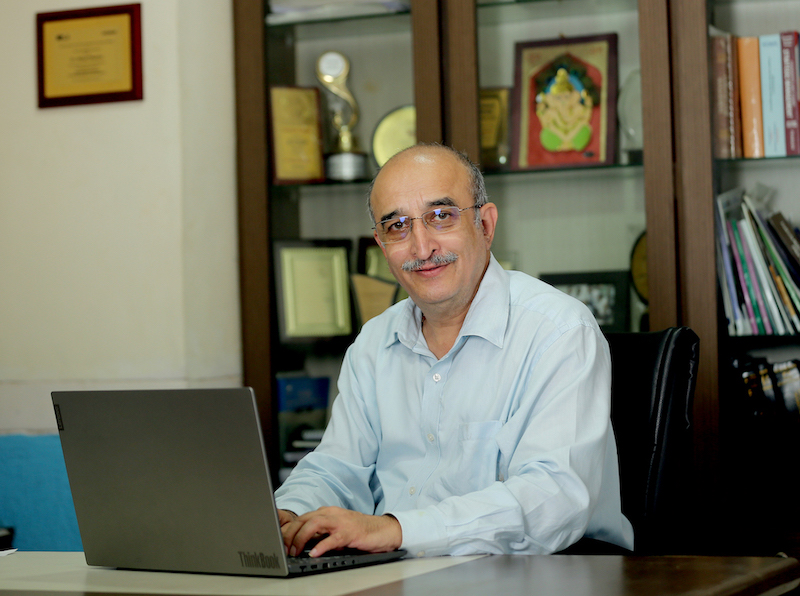 With his unwavering dedication and perseverance towards the subject, Dr. Milind Trivikram Phadtare has penned a book that has been hailed as a 'bible of sorts' across the globe. But his contribution to academia and industry doesn't end there - having spent over four decades on this journey, he has shared his extensive knowledge and experience as a Ph.D. Guide at esteemed institutions such as Savitribai Phule Pune University and Symbiosis International University.
In addition to that, he has held key positions such as the ONGC Chair Professor for Strategic Management and the Area Chair of Marketing at the Administrative Staff College of India (ASCI, Hyderabad), while also working with renowned international firms like Ingersoll Rand and Jaya Hind Sciaky.
Currently, Dr. Milind Phadtare serves as the Senior Professor at NICMAR University and the Dean of the School of Project Management, showcasing his unwavering passion for shaping the future of the industry.
We, the family of NICMAR, are proud to have the 'Professor of Excellence', not forgetting that he is a three-time recipient of the 'Excellence in Teaching Award'.
Our proficient professors have created the undying legacy of NICMAR University. Their commitment towards their profession has benefitted the students with the future of their dreams. Our professors made the university an educational institute of repute which never goes unnoticed. NICMAR bows to their contribution!