Student club Cyborg in collaboration with School of Construction and Technology, Hyderabad campus, organized a seminar on "Visual Intelligence with Drones in Construction Management" on Wednesday, 23rd Nov, 2022 from 2.30 pm to 4.30 pm. The speaker for the day was Mr. Vinod Kumar S (Founder & CEO Senseacre).
Mr. Vinod is a highly regarded leader with demonstrated expertise of over 25 years in business management, and has also assisted global organizations in establishing and expanding their business operations in India. Mr. Vinod is a Mechanical Engineer who attended IIT Madras and IIM Bangalore. He has extensive technology orientation in FSRU, desalination, power storage, UAVs, and smart cities from IDE, GOLAR, SAMSUNG, Sensefly, and MMC UAV, among others.
The event was hybrid, wherein, initially, Mr. Vinod presented the taxonomy of drones, and visual use cases of drone applications in the industries such as agriculture & climate resilience management, construction (irrigation & dams), mining, power, urban and smart cities.
Then construction-specific use cases i.e., demonstrated how the construction progress monitoring using a drone for irrigation projects in Polavaram Project in Andhra Pradhesh and Kaleshwaram Project in Telangana, were made easy for maneuvering in herculean terrains. Mr. Vinod also demonstrated the integration of ESRI ARC Gis, BIM, or any other 3rd part software for progress comparison. Use cases such as Insurance and Disaster Management were also discussed.
Additionally, Mr. Vinod showcased the urban and smart city map land use analysis using drone imagery. The digital trace of every investment made in developing urban and smart cities periodically is evident for decision-making and revenue-generation purposes. Subsequently, a hands-on demonstration of flying of a drone and the dos and don'ts of remote monitoring was performed in the open-ground premises of the NICMAR, Hyderabad campus. The students had overwhelming vital takeaways from this event. They interacted with Mr. Vinod and their team about feasibility of integrating their projects with drones, certification requirements of drone usage, costing aspects, and limitations of drones.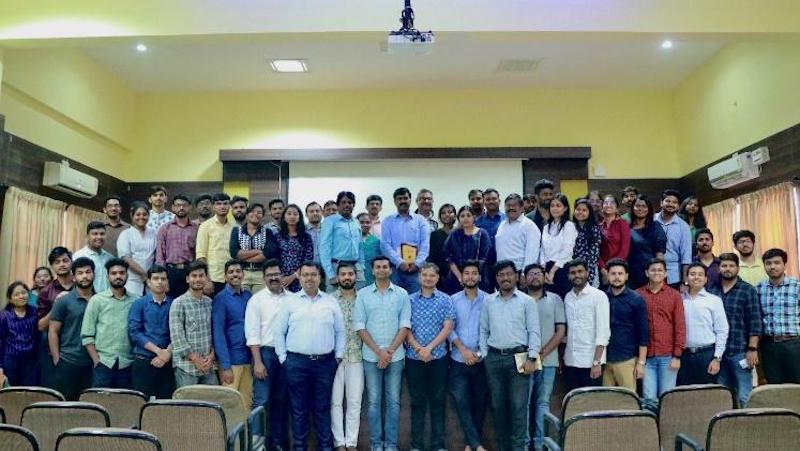 Finally, the overall event lasted for two and a half hours. The guest was felicitated by Dr. Indrasen Singh (Dean-Academic Affairs, NICMAR University Hyderabad), Dr. R. Satish Kumar (Dean-School of Construction and Technology, NICMAR University Hyderabad). Dr. Kedar Phadke (heading the Club Cyborg with his team), and Prof. Vijayeta Malla (School of Construction and Technology) coordinated the event.